Overwhelming heat and dampness hit us like a thick wet woollen blanket as we step excitedly off the monorail at Pasar Seni. For the second time today we feel the intensity of the Malaysian humidity. And now it is also pouring with rain. A quick head check, "1,2,3,4,5 kids plus me is 6 – ok, raincoats on! Has everybody got their daypack and suitcase? Ok let's go!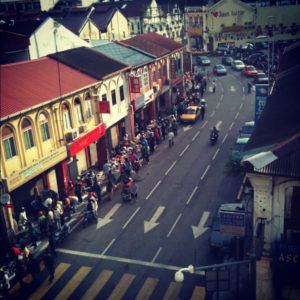 "Goooo Yellooooww Teeeam" a young boy yells in a distinct Malaysian accent. This is followed by numerous shouts from every different direction. "Goo Yellooow Teeeea". It is like an echo in surround sound, something you would expect to hear at a local football field, as spectators cheered on the winning team.
I strain to see where the voices are coming from & who they are calling to, as droplets of water the size of peas pound my face, slowly snaking their way down my neck, under the "one size fits all" raincoat, that had obviously been made for giants, through my shirt, soaking me to the bone.
Through the fading afternoon sunlight & the grey haze, the intense heat turns the dirty Jalan Sultan road in Kuala Lumpur's Chinatown district, into a big, hot, smelly sauna. I can barely make out a dimly lit shop on the corner across the busy street.
At one table, a group of young men with cigarettes dangling from their lips, all dressed in tight blue jeans & t-shirts proudly sporting the late Gucci & Nike branding, look up from their board game, towards us.
Around us, decrepit old buildings are draped with bundles of electricity wires like freshly cooked spaghetti dumped on top of a pile of bricks. The noise of car horns, sirens, screeching brakes from the jumble of cars, trucks & taxi's racing along with complete ignorance of the faded lines that marked the lanes on the road, fills the air like an orchestra warming up before a concert. Vehicles duck and weave often three cars wide on the dual roadway racing along the streets spraying puddles of wat onto the sidewalk, just like pulling the tab open on a shaken can of fizzy drink.
'Not far to go now' I call out to my family who are following in single file behind me along the dangerously narrow, potholed pathway. Our Chinatown hotel, according to the brochure, is just around the corner, an easy 10 minute walk from the monorail station.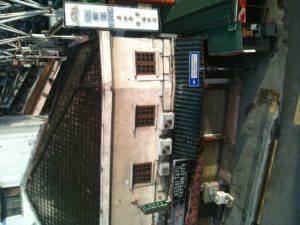 Clothing vendors quickly cover their 'Dolce & Gabbana' wallets, "Chanel" handbags and Louis Vuitton t-shirts, with clear plastic to protect them from the brief downpour while they continued selling to any tourist walking past: "Good originals Miss – no fake Miss".
I breathe deeply and am, enveloped by the fusion of aromas from the side walk food vendors, the fragrant smell of herbal cigarettes, the suffocating smell of exhaust fumes, the stench of waste & scraps thrown into over loaded grass weaved baskets that appear to have been piling up for days.
A group of Muslim school girls dressed in blue & white Salwar Kameez (traditional dresses) walk playfully together on the other side of the street. Laughing & giggling while holding hands, they steal glances in our general direction, smile and continue snickering amongst themselves, nervously avoiding eye contact with me as I strain to make sense of the commotion. "Go Yellow Team!" was still ringing out.
A well-dressed Malaysian Chinese lady wearing a tailored suit, clutching a pretty pink & red umbrella, carefully navigating the uneven & broken footpath in front of us obviously heard the shouts also & shot a quick glance back at us with a slight smile.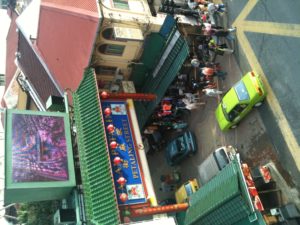 Intrigued, I stop & looked back. And burst into laughter.
Following, one by one in single file, complete with backpacks and dragging suitcases, trudging in the pouring rain wearing oversized bright yellow "one size fits all" raincoats were my five children. From smallest to tallest 12, 13, 14, 15, 16 years old looking like a scene from The Sound of Music – except wetter – and certainly less than impressed with all the attention. With a grin, I yell out "Goooo Yellooooow Teeeeeeeam" in unison with the young Malaysian boys who had started the chant.
Within minutes, the sun came out and we had reached our hotel.
My kids turned to me.  "Mum, as funny as you think that was, we do not care how wet we get, we are NEVER wearing these raincoats again"!
.
.
.
NOTE: To my EXTREME disappointment, but my children's overwhelming relief… no photos of the Yellow Team were taking during the making of this true story 🙁
https://spicywanderlust.com/wp-content/uploads/2017/02/IMG_1984.jpg
721
721
Kaz
http://spicywanderlust.com/wp-content/uploads/2017/02/SWlogopink.jpg
Kaz
2010-04-11 05:04:41
2017-03-05 07:16:57
Go Yellow Team